Auto Glass Shops
Our auto glass vin etch systems utilize a proprietary process to permanently etch a unique Vehicle ID Number onto any glass surface. Both 1650 & 2000 series vin window etching kits can even etch company logos & large databases of VINs
21st century glass etching.

Etch glass with speed and ease with Insta Etch digital stencil printers and our patented glass marking process. With a wide range of complete systems to meet most any project, glass companies large and small find great benefits with our glass etching equipment. Completely wireless and handheld, the 1650 series etching machine creates custom glass etch stencils to permanently mark VINs, serial #s, logos or manufacturer information to any glass while in the field or on a production line. Use an Insta Etch high resolution printed stencil along with our proprietary, safe and easy glass etching cream to complete a custom etch in mere minutes.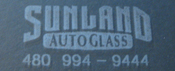 Perfect Add-On for Auto Glass Companies
Auto Glass companies profit huge from our all-inclusive glass marking kits. With virtually zero training and device setup, the Insta Etch 1650 series handheld stencil printer can be implemented in your company tomorrow. Mobile glass companies use the all-inclusive vin etching system while in the field, commonly charging more than $50 cash per vehicle for 6+ windows vin etched. In fact, Auto glass companies use Insta Etch 1650 series to bill Insurance companies and third party administrators for pre-existing etches on replaced glass. Your company is required to
bring a vehicle back to "pre-loss condition"; this includes broken glass that was previously etched. Approximately
1 in 3 vehicles on the road are previously vin etched, usually marked by a dealership code and 1-800 #. With our mobile 1650 series, your mobile technicians can pre-inspect a vehicle before replacing a windshield or other glass, if the car previously had vin etching, your glass tech can instantly print a stencil to match the other marks, and vin etch in under 5 minutes. Did you know your company can be reimbursed by insurance company claims of pre-existing "VINETCH" (pre-approval just like for tinting or dealer molding) up to $50 per window replaced! Check your potential insurance profits with this calculator or call Lynx, Safelite or other insurance provider for their most recent rates and procedures.

Patented Mobile Glass Etching Process.
Other older companies use large typewriter die-impression stencil kits which typically cost over $1000, produce terrible results and are not mobile, or even sandblasting kits which can easily cause more harm than good and are very cumbersome. Our Insta Etch wireless 1650 series, however, includes everything you need to etch more than 120+ marks, all fits in the included convenient carry case the size of a small briefcase and is completely warrantied for 12 months. Insta Etch also makes it cheap and easy to reorder more glass etching equipment and supplies. Take a look at the chart on the right, to compare the options and benefits of our professional series kits over other systems.
No Setup or Training Required.
Insta Etch vin etching systems are a hugely profitable glass shop add on that require virtually no setup or training unlike other add-ons such as windshield repair kits or headlight restorations systems involve. 1650 series Insta Etch professional glass etching systems are designed for the 21st century mobile installer, tint shops and glass glaziers. It is the first of its kind, handheld digital etching machine device that can permanently mark a vehicle's VIN number; from typing to wiping the glass clean, in less than 5 minutes. Ready to etch right out of the case, the installer simply types the VIN into the integrated keyboard then can adjust the font style & size and also can specify multiple copies. The high resolution Insta Etch stencil instantly prints out at up to 1" wide, are applied to the glass with a quick spray of our safe spray primer and are then simply brushed with a few passes of our glass etching cream. In minutes, your glass company can profit from offering vin etching service, or you can even use our mobile 1650 series glass etching stencil printers to leave a lasting impression with your logo/name and phone number for brand recognition and repeat business. Adding Insta Etch systems to all your mobile units and shop locations pays for itself in no time!
Flat Glass Companies, Custom Manufacturers and Glaziers
Are you looking to satisfy ANSI mandates on custom installed glass? Insta Etch glass etching equipment make this task quick and easy. Both the etch 1650 and our larger format, higher volume 2000 series etching machines can instantly produce glass stencils to permanently mark any glass; tempered, laminated, annealed and toughened. Mark your logo/name, ANSI information including thickness and any other serial or part number to custom glass, and manufactured windows. Our 1650 can produce a smaller format high resolution glass etching stencil up to 4"x1"inch (98mm X 24mm) while our larger format 2000 series can effortlessly and wirelessly produce the same high resolution stencil up to 4" x 4" inch (98mm X 98mm) or longer. Both systems can be configured to your need or project scale, send us your requirements or click here for all inclusive etching machine and material pricing and product details.

Insta Etch 1650 "Best Seller" Series

Insta Etch 2000 "Large Volume" Series

other guys "Die-Impression
Blue ribbon stencils"

other guys "SandBlasting"
Etch Kits




MOBILE

PRICE

$299

$1259

> $1300

> $750

PRINT
RESOLUTION

180 dpi

203 dpi

up to 72 dpi

messy, depends on sand used.

BENEFITS

Inexpensive, Mobile
Handheld, Etch Marks & Logos

Mobile Bluetooth
SmartPhone Application, Etch 1000+ Marks & Logos!

25 year old
technology

moderately inexpensive
& somewhat mobile

PROBLEMS

Initially only 120+ marks, Easy to ReOrder more Supplies Though.

NONE, Top of the line. Cheap & Easy Reorder Supplies Online.

Not Mobile, Expensive
Low quality Stencils
Manual Adjustments

Cumbersome, Sand
will get into
doors/ windows, Messy,
Time Consuming